2F., No. 54, Sec. 1, Sanmin Rd., Panchiao City, Taipei, Taiwan 220, R.O.C.
TEL:886-2-29500011 (12 Line) FAX:886-2-29530427
http://www.ultrasonic.com.tw
E-mail:eyan@ms3.hinet.net

ULTRASONIC PLASTIC WELDER
THE PRINCIPLE OF ULTRASONIC PLASTIC WELDER:
ULTRASONIC IS THE ENERGY OF POWER WHICH IS GENERATED FROM ULTRASONIC GENERATOR THE POWER SUPPLY CONVERTS THE FREQUENCY OF THE INPUT ELECTRICAL ENERGY 50Hz or 60Hz TO 20KHz THEN THE TRANSDUCER CONVERTS THE ELECTRIC ENERGY INTO MECHANICAL ENERGY AT A VIBRATION OF 15,000-20,000 IN PER SECOND.
THE HORN TRANSFERS THE ULTRASONIC ENERGY FROM THE GENERATOR TO THE SURFACE OF TWO PIECES OF THERMOPLASTIC BY THE RESONANT VIBRATION OF HIGH FREQUENCY MELT THE JOINT POINT OF THE CONTACT WITH THE PLASTIC AND SOLIDIFIED WITHIN ONE SECOND.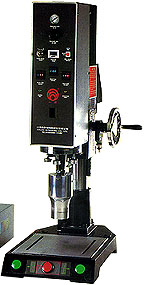 VARIOUS MODEL OF PLASTIC WELDERS
ADVANTAGES OF ULTRASONIC PLASTIC WELDING:
HIGH SPEED: A SINGLE MACHINE MAY HANDLE UP TO 30 PARTS PER MINUTE.
PERFECT QUALITY: REJECTS ARE CUT TO ALMOST ZERO.
APPEARANCE: PRODUCT LOOKS VERY SMART SMOOTH WITHOUT ANY ODOR.
STRENGTH HERMETIC SEAL WELD: WELDING STRENGTH APPROX. 98% FULL. SEAL, UNDER PRESSURE WITHOUT LEAK BY WATER OR AIR.
ECONOMY: ELIMINATING CLAMP, FLUX, GLUE, REDUCING LABOR AND COST.
AUTOMATIC: SPEED AND FLEXIBILITY OF THE PROCESS ENABLES A MANUFACTURER TO AUTOMATIZE ASSEMBLY LINE.
FEATURES:
I.C. Solid state, Auto-tracking system.
Remote control system, easy operation save labor and time.
The unit equipped with overload sign lamp and emergency stop switch to protect unit and user safety.
Our engineering staff have years of experience. They will design and construct any size of horns or DIE.
With Auto-Test system equipment and keep the machine in best working situation.
To promote quality of the products and notice operator adjust the operational condition.
Increasing the machine auto-protection to reduce the losses.
---
---
---
Copyright © 1998 E-YUAN ULTRASONIC CO., LTD.